Best Barns Regency 8x12 Wood Storage Shed Kit (regency_812)
Our Regency offers a lot of storage for a 8'x12' storage shed kit. Featuring a 9/12 pitch roof which allow for great storage in the overhead loft area. Loft area is provided at both ends of the shed kit. The double door is large enough for a lawn mower and gives access without having to move other items around. The single door gets you quick access to center of the shed and both lofts. The Sturdy-Built truss has been engineered to withstand 164 mph wind loads ( 3 second gust ).
Features
2 Doors:
Large double doors provide access for lawn mower
Single door for quick access to loft
Walls and Trusses:
2x4 construction 24" o.c.
Loft Storage:
Large loft area on both ends
Pre-primed Siding:
Siding - 3/8" L. P. (Louisiana Pacific) Smartside Ext. Paneling w/50 year limited warranty
Sturdy-Built Truss System:
40 lbs. snow load / 164 mph wind load
* shown with optional windows and vinyl siding
Ready to assemble components insure a professional look when your barn raising is complete.
Fast & Easy - our components fit easily into place with no special tools or skills required!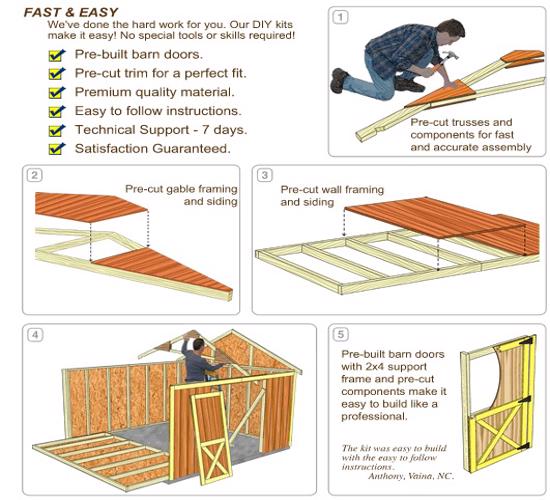 Pre-cut roof trusses for fast and accurate assembly
Pre-cut Wood Gussets
Pre-cut wall framing
Pre-cut exterior siding for an accurate fit
Pre-cut roof sheathing
Pre-cut trim for a perfect fit
Pre-built pocket doors
Technical Support - 7 days
Satisfaction Guaranteed
All required hardware including door hinges, latch, nails, glue for gussets and detailed instruction manual. Shingles and roof edge provided by owner.
Order with confidence. We take great pride in our wood shed kits. Product quality and satisfaction is out number one goal. We use the highest grade of lumber from Sweden and Germany. These countries require a more stringent grading system than US standards insuring only the best lumber is used in your shed kit.
SIDING: 

ELEVATION:
TRUSSES:

OPTIONAL ROOF: 
OPTIONAL WINDOWS:
OPTIONAL FLOOR: