The Sentry Buildings Lakewood 12ft. x 24ft. shed kit provides a large amount of space for storage of your lawn and garden items or use as a workshop. Featuring a large loft with room enough for storage or additional work area. For customers wanting a cabin the Lakewood is an excellent choice to make into a rustic retreat.
Sentry Buildings DIY kits are designed for the customer who wishes to build to their individual needs. By building the kit yourself you save the cost of labor associated with hiring a contractor.
Windows and doors for the first floor are not included. This allows you to purchase the quantity, size and type that best suits your needs. During construction the customer will rough-in openings prior to installing the siding in the location of their choosing. By not limiting you to absolute location and type of windows and doors you may design and build the kit as you see fit.
The loft has a view to the first floor with a large 8ft. wide x 8ft. deep space. This gives a warm and expansive feel to the interior of the shed kit.
NOTE: Second floor windows included. First floor windows and door purchased by homeowner separately / not included. Shingles and metal roofing pictured are not included. Paint by homeowner. Deluxe floor sold optionally.
***Before purchasing shed kit make sure to check if a permit is required in your area.***
Features
Loft Area:
Expansive second floor loft area
Inlcudes 6 second floor windows
Customize to suit you needs:
Add first floor doors and windows to make a unique and versatile building
Sturdy-Built Truss System:
40 lbs snow load / 170 mph wind load
Pre-primed Siding:
Siding - 3/8" L. P. (Louisiana Pacific) Smartside Ext. Paneling w/50 year limited warranty
Once you receive your new building begin by unpacking the pre-cut framing, windows and hardware. You will also receive a detailed manual with step by step instructions. Each step is explained with clear instructions and detailed line art and has been developed with the novice builder in mind. Should you need help during construction please contact us at 800-245-1577.
Below are principle assembly steps for the 12ft. x 24ft. Lakewood shed kit. Rough-in openings for windows and doors on first floor are determined by the homeowner during construction. This model was primarily built by a single carpenter over an 8 day period. We recommend 2-3 people be available for constructing in the field. Because of the large size of this shed scaffolding is necessary to work on second floor loft and roofing.
The homeowner needs to determine the floor system that works best for their needs. Our models are built upon pressure treated 4x4s, 2x4s spaced 24" o.c. with 3/4" plywood. It is absolutely important to have a level and square foundation before starting construction of shed kit.
Frame walls and erect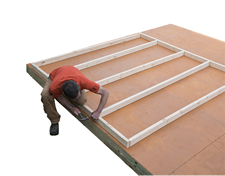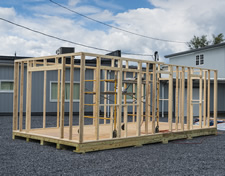 Apply Siding. Set loft floor joists 
Layout sheathing. Set dormers and gables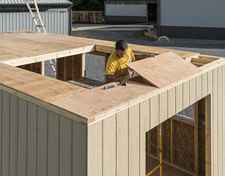 Finish dormers and gables. Set trusses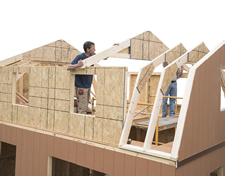 Layout roof sheathing
Install roofing

Below are images and descriptions of significant steps during the construction of the Lakewood 12ft. x 24ft. model for our display lot. This model was built to verify accuracy of our assembly instructions and confirm all component parts fit correctly.
The build was accomplished by a single skilled carpenter over the course of 13 days. Our carpenter choose to assemble framing and erect the walls prior to installing siding. The Lakewood assembly instructions give alternative methods of installing siding. We recommend 2-3 people to assemble the kit in the field. Renting scaffolding with proper safety equipment such as a harness is recommended for this larger Sentry Building kit.
Step 1
Building the wood floor system* and framing 1st floor walls. Pre-cut wall studs are provided for 24" on center spacing. Enough framing is provided for roughing in window and door openings as shown. Windows and doors for 1st by homeowner. Additional framing lumber may need to be purchased depending on size and quantity of doors and windows bought by homeowner. Pressure treated bottom wall plates are included in kit.
* The optional wood floor system is shipped with four 4x4 pressure treated timbers not five as shown. Our display models require additional timbers for transportation purposes.
Step 2
Siding and windows are installed. The homeowner supplies the style, number and type of windows and doors for the first floor. The amount of time required for installation will vary based on what the homeowner has chosen to install. For our model 6 windows, a walk-in door and a patio door were installed. Siding must be cut for rough-ins as appropriate for windows and doors purchased.
Step 3
Installation of 2x6 loft floor joists and plywood flooring. Floor joists are spaced 16" on center. The loft for the 12ft. x 24ft. kit is 12ft. x 14ft. with an 8ft. x 8ft. open area to the first floor.
Step 4
Installing roof gables, dormers and trusses required 2 days. Roof trusses are rated for 170 mph peak gust, 134 mph wind load and 40 psf snow load. An engineer stamp drawing is available if required for obtaining a permit. Painting took an additional day.
Step 5
Install plywood roof sheathing and primed 1x6 trim on perimeter of the roof. Primed trim was also installed on the corners and the soffit. Loft windows were installed on both dormers and gable ends.
Step 6
Our pre-cut metal roof system was installed over the last 2 days. This optional roof kit includes pre-cut roof panels, gable trim, flashing, ridge cap, metal roof edging and all hardware necessary to install.
The Lakewood comes with 6 insulated windows ready to install in the loft area of building. First floor windows and doors are purchased separately by homeowner.
Interior view of loft 
*Stairs and railing not sold with shed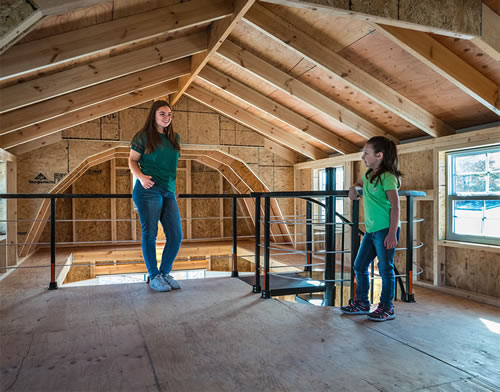 Interior view of loft from gable window
*Railing and stairs not sold with shed. First floor windows sold separately.
Interior view of loft from first floor. First floor windows sold separately.
*Stairs and railing not sold with shed
Interior view from loft..
*Railing not sold with shed. First floor windows and patio door sold separately
Primed 3/8" wood siding, with vertical grooves, creates an attractive plank look.
Smart Panel, manufactured by Lousiana-Pacific, creates the visual beauty of real wood with the strength and durability of an engineered product.
LOFT
The Lakewood has a loft area which provides 6'-1" of headroom a center. The 2x6 floor joists are spaced 16" on center and sheathed with 5/8" plywood. The 12ft. x 24ft. Lakewood has 12ft. x 14ft. of loft area. Open to the first floor you'll find plenty of room for storage or sleeping area. 6 insulated windows are included for installation in the loft area providing for light and ventilation. 2 windows will be installed on each dormer and 1 on each gable end.
FLOOR: