Free Shipping! Everything Home Since 2006
Quik Shade 10x10 Commercial C100 Canopy Kit - White (157398DS)
Get top quality, reliable shade with the Quik Shade C100. This 10x10 straight leg canopy offers up to 100 sq. ft. of shade and can shade between 8 to 12 people. For more details, contact us at 888-609-5487!
FREE Shipping!

Quik Shade 10x10 Commercial C100 Canopy Kit - White (157398DS)

Having a wide backyard space will definitely give you its perks! Whether you're hosting a backyard barbecue or a company lawn party, an instant shade solution prepares you for anything. Beaming sun or unexpected precipitation can quickly rain on your parade, making guests uncomfortable and eager to leave. With a shade canopy, you can be sure guests stay comfortable throughout your entire event. Instead, utilize a shade canopy for cooler seating areas, keeping food out of the sun, or for activity spots such as face painting. Have confidence and throw in a small gathering or an afternoon tea tea part with out Commercial C100 10x10 Straight Leg Canopy. Quik Shade's Commercial C100 Canopy is a reliable shade that shades between 8 to 12 people and provides up to 100 sq. ft. of shade. This top of the line, high quality pop-up canopy is portable and made from durable and top quality materials. With infinite height positions, you'll choose the canopy height that fits your needs. This features patented Mega Latch sliders and leg extenders, added wall for privacy and 30mm legs and nylon feet that won't scratch surfaces.  With its 300D polyester top with Aluminex, this canopy is made to be one the most durable one in the market and will surely protect you from the sun. The canopy's nylon feet are great for stability and floor protection together with its micro glide Teflon bearings. 4 ground stakes for each leg are added too for adequate anchoring. This canopy has a quick and easy one-person setup and this also includes an easy to carry travel bag for outdoor travels.

Features:
Patented double reinforced frame system with hardened thru-bolt assembly
Straight Leg Canopy
Easy to use, patented Mega Latch sliders and leg extenders
Rigid 12 x 23mm patented overlapping and reinforced eave construction
300D polyester top with Aluminex for up to 99% UV protection
Added wall for privacy
Micro Glide Teflon bearings for easy slide
30mm legs and nylon feed that won't scratch surfaces
4 steel ground stakes for easy anchoring
Comes with a heavy-duty roller bag for transport and storage
Specifications:
Frame Material: Steel
Shape of Tube: Square
Building Shape: Peak
Valance Height: 77 inches
Roof Angle - Upper: 29
Gable Height: 31.5 inches
Wall Height: 88 inches
Nominal Dimensions: 10 x 10 x 10
Assembled Exterior Dimensions: 128.5"W x 128.5"D x 119.5"H
Total Storage Volume: 852.04 cu. ft.
Total Storage Area: 114.67 sq/ft
Cover Color: White
Frame Color: White
Assembly Required: Yes
Waterproof: No
Water-Resistant: Yes
Storage Bag Included: Yes
Shipping Dimensions: 9.8"L x 9.1"W x 51.2"H weighs 51.67 lbs
Number of Boxes: 1
Quik Shade Screen Kit - White (132174DS)
If you have an existing straight leg canopy and you are looking for a screen kit that will last longer than other brands yet an affordable one, we have the QS WE100/C100/SX100 Screen Kit only for you! For more details, please contact us at 888-609-5487!FREE Fast Shipping! CANOPY NOT INCLUDED!
Price
$69.95
Regular price
$99.95
Related Products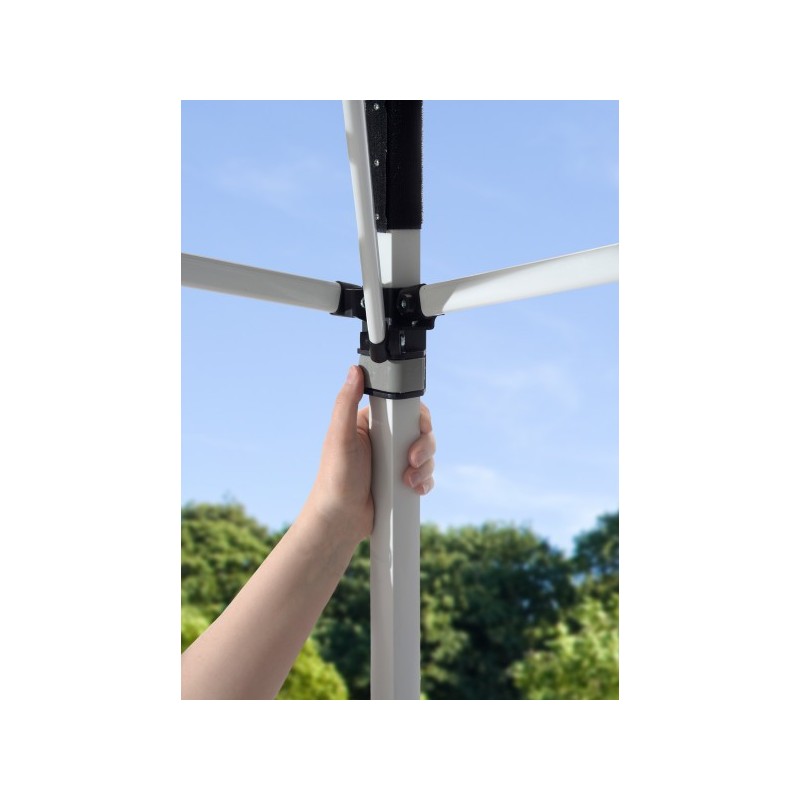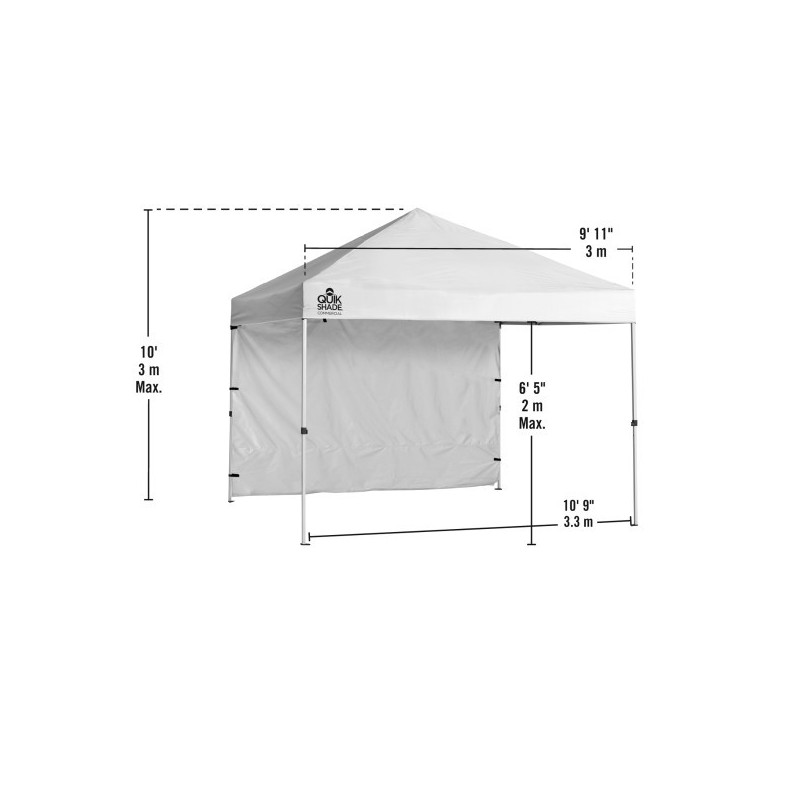 Quik Shade 10x10 Commercial C100 Canopy Kit - White (157398DS)