Low Prices & Free Shipping! Since 2006
Suppose you're looking for a storage shed where you can put it in any wall area. SideMate Vinyl is the one you need. It will maximize storage space with its contemporary design that will beautify any backyard. For more information, call us at 888-609-5487!FREE Shipping!
Price
$899.00
Regular price
$1,299.00
All new products
Include your little one in the backyard fun by adding a Toddler Swing to your backyard playset. Recommended for Ages 18 months to 3 yrs. old.FREE Fast Shipping!
Price
$89.95
Regular price
$129.95
Rugged cast aluminum construction, available in White, Bronze, or Black, the Imperial offers a clean contemporary design that is unequalled in performance. Powder coated finish means no future painting. Various sizes available that will fit over steel, aluminum, PVC or wood posts. FREE Shipping!
Price
$27.95
Regular price
$39.95
All best sellers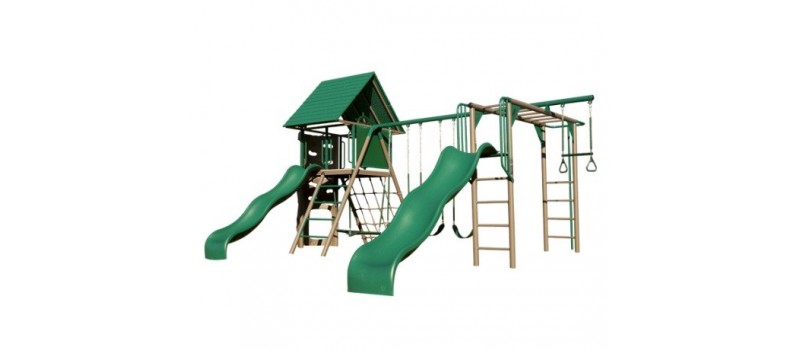 Deluxe Swing Sets from KitSuperStore offers you more than just swings and slides, but it also carries various play areas such as a clubhouse, monkey bars, tunnels, and a whole lot more! Deluxe Swing Sets are normally found in public playgrounds as well as school areas, but it can also be added in the backyard of your own home. Not only that this play equipment provides a fun time for the kids, but it can also be their source of exercise! In this world intoxicated with technology, parents should be wiser choices in providing their kids with the best that they can have especially when it comes to their health. Children need a minimum of one hour of physical activity each day and getting them moving on their own swing set is the easiest way to make this necessary exercise session fly by! Enjoy the Lowest Prices + FREE Fast Shipping on orders only here at KitSuperStore!
Deluxe Swing Sets
Showing 1-16 of 16 item(s)
Showing 1-16 of 16 item(s)