Free Shipping! Everything Home Since 2006
Cargo Ease Cargo Ramp 1800 Series Bed Slide (CE9548CCR)
If you're looking for the ultimate two-in-one product you've found it. Cargo Ease cargo ramp is not your ordinary truck bed cargo slide; it also includes loading ramps that are located underneath the cargo slide in a storage drawer. This heavy duty product can handle 1,800 pounds of weight with up to 70% extension.

Cargo Ramp 1800 Series Bed Slide (CE9548CCR) by Cargo Ease®. Dimensions: 95" Length x 48" Width. Capacity: 1800 lbs. HD Polyethylene Coated Deck. If you need something more reliable than an ordinary slide out drawer system, you've come to the right place. With this highly efficient Cargo Ramp Slide, you can extend your vehicle's deck instead of just sliding it out. All you have to do is to utilize a ramp system located under the deck and you are ready to load your bulky cargo.
Cargo Ease cargo ramp features a ¾ inch plywood deck with polyethylene coating. On top of your cargo slide it has a removable ¼ inch rubber deck mat that will stop your cargo from sliding around. The loading ramps store underneath your cargo deck when you are not using them, which allows you to use your cargo slide whenever you please.

This truck bed slide and loading ramps combination have eight sealed roller bearings for easy and fluid motion. It also includes four inch laser cut steel side rails and a spring release t-handle. You are able to lock this cargo slide in three position depending on your mood and if you need full access to your load or not. 
FEATURES:
1,800 lbs weight capacity
Provides hassle-free access to your truck bed
Perfect for loading and unloading wheeled cargo
Allows for up to 70% extension
Cargo Ramp System for better access to your truck bed
Adjustable ramp extensions to accommodate different weights
Super durable 3/4'' ultra-ply deck
High density polyethylene coating on the top and bottom of the deck
Reinforced steel frame for added safety
8 sealed roller bearings for improved reliability
4'' aluminum side rails can be folded down to extend the cargo space
Spring release T-handle regulates cargo load space
3 locking positions – in, half-way out, and fully extended
Tough linkage lock mechanism
Comes fully assembled
Easy, bolt-on installation
Covered by a 5-year warranty
VEHICLE FITMENT
Year Make Model Fitment Notes:
This part is compatible with 6 vehicle(s)
2011 Nissan Titan Long Bed King Cab
2010 Nissan Titan Long Bed King Cab
2009 Nissan Titan Long Bed King Cab
2008 Nissan Titan Long Bed King Cab
2007 Nissan Titan Long Bed King Cab
2006 Nissan Titan Long Bed King Cab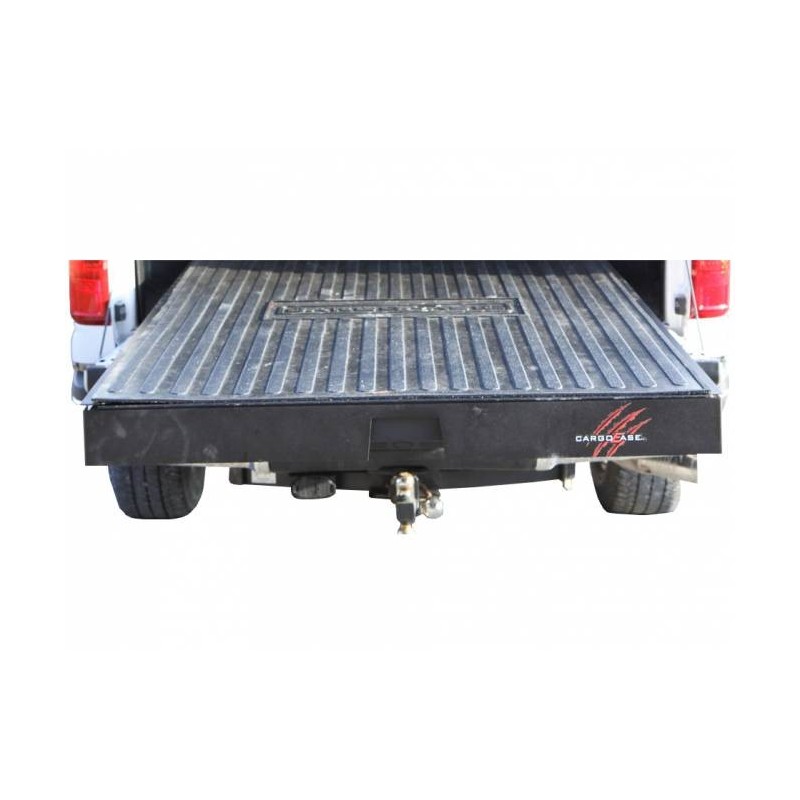 Cargo Ease Cargo Ramp 1800 Series Bed Slide (CE9548CCR)