DuraMax Imperial Metal Buildings offer strength and durability, low maintenance and lot's of storage space. The base has approximately 1,396 cubic feet of space. A 99" wide roll up door is wide enough for SUV or sports car for secure parking storage.
They are reinforced with metal inserted columns for even greater rigidity and strength. This Imperial Metal Building can handle up to 20 lbs per square foot of snow. Their attractive design and color go well in any landscape.
99" Wide Front Roll Up Door Fits All Common SUV's
Side Lockable Door for Added Convenience and Security
Metal Reinforced Roof Support Truss System holds up to 20 lb./sqft of snow
Hot Dipped Galvanized Steel Frame Parts
Metal Frame Thickness of 0.042" and a Wall Thickness of 0.012"
Ridge Reinforced Walls
Extendable (Optional)
Backed by a 10 Year Limited Warranty
Available in 3 colors: Anthracite w/ Off White trim, Off White w/ Brown Trim & Green w/ Off White trim
Specifications:
Item #: 50931
Size: 12'x20'
Color/Trim: off white / brown
Exterior Dimensions: 145w x 238" d x 102" h
Interior Dimensions: 127" w x 222d x 83" h
Front Roll Up Door Dimensions: 99" w x 77" h
Side Door Dimensions: 24.75" w x 78.5" h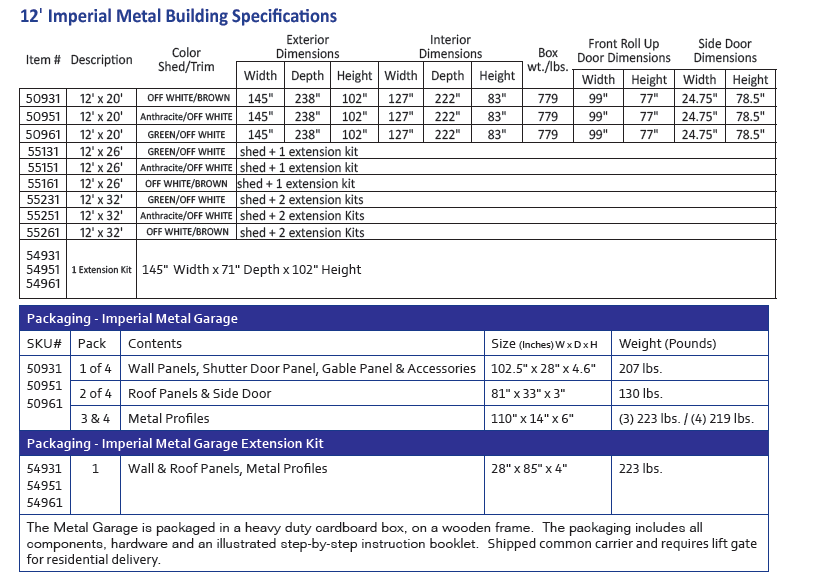 ASSEMBLY MADE EASY
All parts are pre-cut, drilled and numbered for ease of assembly. You need to provide a level concrete surface. In addition you will need a drill with a philips head, hammer, pliers and a ladder.