Free Shipping! Everything Home Since 2006
Sojag 10x12 Verona Gazebo Kit - Gray (312-9162868)
Improve your outdoor setting with a sun shelter that stays up all year long. This Verona gazebo kit from Sojag is made from weather-resistant corrugated polycarbonated sheets making sun shelter perfect for all seasons. For more details, please see below or contact us at 888-609-5487!
FREE Shipping!
Curtains Not Included!

Sojag 10x12 Verona Gazebo Kit - Gray (312-9162868)
If you are looking to improve the landscape scenery in your backyard, adding a gazebo would be a very wise choice! A gazebo will add a touch of elegance to your outdoor area and if you choose the covered in style can have many more uses. When compared to a veranda, they are relatively cheap to build, depending on the style, sizes and building materials used. Make sure to transform your backyard with the addition of one of our Verona gazebo kits! This extension to your home will provide the needed space to gather all your loved ones for an evening of dining and relaxation or it can be used as the perfect shelter for your hot tub. This beautiful addition to your outdoor living space will shelter you from the elements for years to come while adding value to your property. Outdoor gatherings will definitely be a habit too so a gazebo that it comes with a mosquito netting to keep out insects will be most useful for evening use such as parties and weddings. The casual style and vibe will add a flare to your planned small parties and it'll definitely enhance your outdoor gathering space by providing you cool shade in summer days and a sanctuary on rainy days. For those who loves plants, butterflies and birds, you can also transform into a mini flora and fauna garden!
 
Features:
Features premium Interpon AkzoNobel powder coating for maximum protection
Durable and corrosion resistant, premium powder coated tinted aluminum frame
Premium polycarbonate roof panels
Discreet two-track system makes it easy to attach mosquito net and separately sold privacy curtains
Includes a functional and convenient nylon mosquito netting that attaches easily
Meets CPAI-84 fire retardant international safety standards
Recommended to remove curtains and netting for the winter
DIY assembly with no special tools required.
Specifications:  
Frame Material: Aluminum
Valance Height: 75.4 inches
Building Shape: Rectangular
Foundation Dimensions: 113.86"L x 139.45"W
Assembled Dimensions: 142.91"W x 117.44"D x 102.76"H
Total Storage Area: 93.37 sq/ft.
Frame Color: Dark Gray
Roof Color: Tinted
Assembly Required: Yes
Assembly Time: 6 hours
Waterproof: No
Water-resistant: Yes
Shipping Dimensions: 84.65"L x 34.25"W x 14.49"H weighs 207.41 lbs
Number of Boxes: 2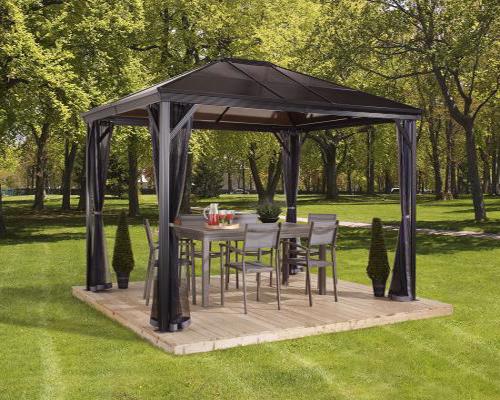 Related Products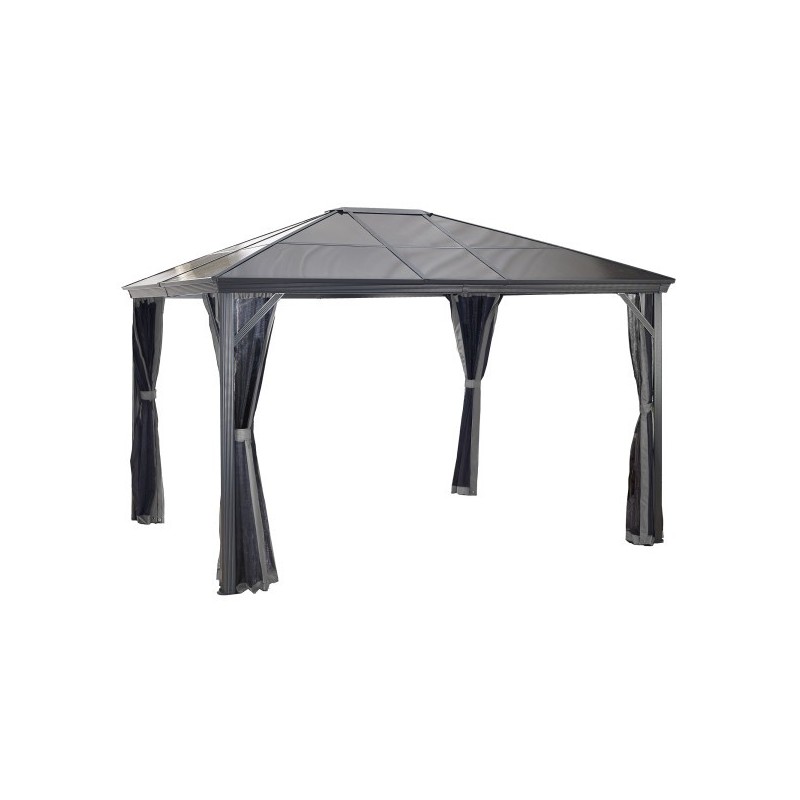 Sojag 10x12 Verona Gazebo Kit - Gray (312-9162868)