Free Shipping! Everything Home Since 2006
Sojag 12x12 Genova II Double Roof Gazebo Kit - Dark Brown (500-9165067)
Enjoy your outdoor living space with the 3 season Genova sun shelter. This gazebo provides a shaded space to relax by the pool or in the backyard during hot summer days! For more details, please see below or contact us at 888-609-5487!
FREE Fast Shipping!

Sojag 12x12 Genova II Double Roof Gazebo Kit - Dark Brown (500-9165067)

A gazebo may be a want for some people but that is a actually a structure that every American homes should have especially if you have a wide space in your backyard. Customize your backyard by adding the perfect gazebo that will fit your budget and style and you'll surely enjoy the benefits to have one! Gazebos are used as a place to sit down and relax while enjoying the fresh air and sunshine with your family. They provide shade when the sun gets high and hot overhead. So if you would like a sheltered place to enjoy viewing your garden, have a coffee or talk to a friend, a gazebo is for you. It can be also be built close to the swimming pool to use as a dressing room. You can pull the curtain closed for extra privacy and keep a chest or cupboard in there with towels and spare swimmers and even clothes. It makes a good place to sit in the shade as well as somewhere to store pool toys. The most popular use of a gazebo these days is that it can be used for a wedding! With the costs of venues soaring and casual weddings becoming more popular, you can probably recoup the cost of the gazebo with just one wedding. You could even rent it out to friends for their weddings and it can also be used for extra space and shelter to serve snacks and drinks for a garden party. Make it your way and unravel many more benefits of a gazebo that's in store for you!
 
Features:
Features premium Interpon AkzoNobel powder coating for maximum protection
Durable and corrosion resistant, premium powder coated dark brown aluminum frame
Premium powder coated galvanized steel roof panels
Discreet two-track system makes it easy to attach mosquito net and separately sold privacy curtains
Includes a functional and convenient nylon mosquito netting that attaches easily
Although an all-season gazebo, any accumulation of snow should always be removed from the roof  
Meets CPAI-84 fire retardant international safety standards
Recommended to remove curtains and netting for the winter
DIY assembly with no special tools required.
Specifications:  
Frame Material: Aluminum
Valance Height: 76.61 inches
Building Shape: Square
Foundation Dimensions: 131.89"L x 131.89"W
Assembled Dimensions: 143.7"W x 143.7"D x 114.57"H
Total Storage Area: 100.4 sq/ft.
Frame Color: Dark Brown
Roof Color: Dark Brown
Assembly Required: Yes
Assembly Time: 6 hours
Waterproof: No
Water-resistant: Yes
Shipping Dimensions: 127"L x 50"W x 22.54"H weighs 400 lbs
Number of Boxes: 2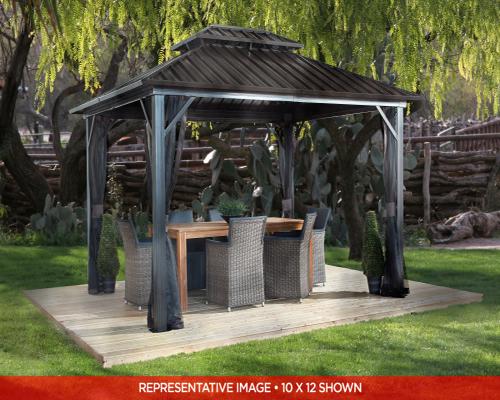 Related Products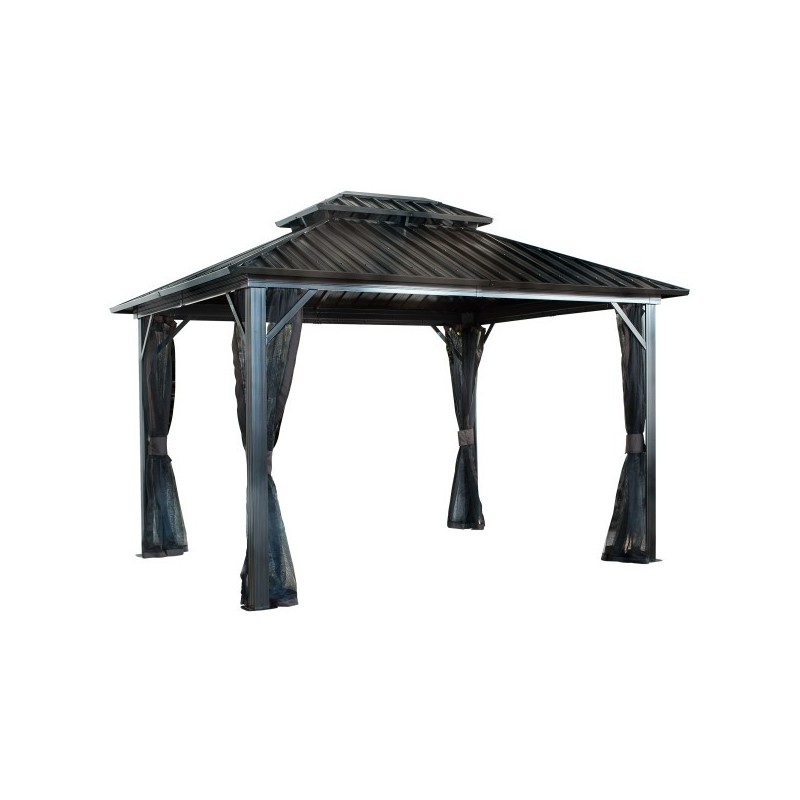 Sojag 12x12 Genova II Double Roof Gazebo Kit - Dark Brown (500-9165067)