Lifetime 8 Ft X 2.5 Ft Outdoor Storage Shed Extension Kit (60142)
With the Lifetime Outdoor Storage Shed Extension Kit, you can add extra space to your existing Lifetime Shed. The Extension Kit was designed to provide you with an easy way to get more storage without having to invest in a new shed. Whether you are in need of more shelving, space for a lawn mower, or just looking to store more tools, this kit is the perfect option. The Shed Extension Kit adds 30 inches of length to your shed and includes wall panels, roof panels, floor panels, and all the necessary hardware for installation. With this extension, you get the same durable and low maintenance design to keep your shed looking stylish and clean on top of the additional utility. You get the same UV protected walls, slip resistant floors, and high pitched roof to protect against the elements. Maintain the great attractive appearance and design of your shed while expanding your storage space with the Lifetime Extension Kit.

30 in. Shed Extension Kit - Kit includes all wall, roof, and wood-grain floor panels, and installation hardware. Fits Lifetime 8 ft. x 5 ft and 8 ft. x 12 ft Outdoor Storage Sheds and includes the ridge skylight. 10-year limited warranty.

This shed extension kit is compatible with models 60001, 60005, 60075, 60079, 60084, 60095, 60113, 60178, 60238, 60241, 6402, 6405, 6406, 6411, 6413, 6418, 6446, and 60056.
Features:
Model No. 60142
Desert Tan color
Steel-reinforced polyethylene construction
Rugged steel trusses provide added roof strength
Attractive appearance and design
Low maintenance, never needs painting
High-pitched roof allows for quick rain andsnow drainage
A Roomy 6 ft. 8 in. high at inside center
Slip-resistant, high-impact 3/4 in. thick polyethylene plastic floor resists oil, solvents, and stains
One skylight
10 yr limited warranty
Made in USA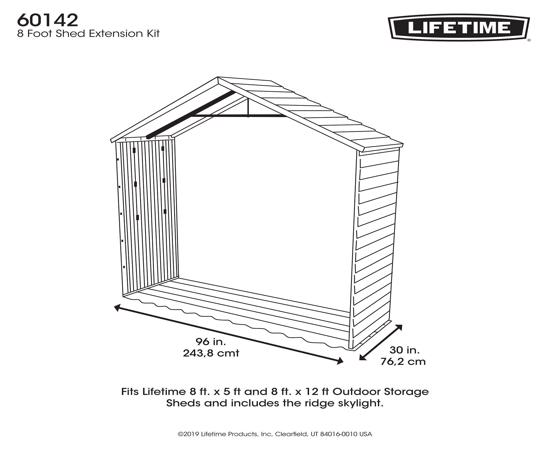 California Residents: Click Here for Proposition 65 Warning