Lifetime 8x10 ft Outdoor Storage Shed Kit (60056)
Get organized with a Lifetime 8 x10 ft tool shed. One window and full-length roof skylight provide natural interior lighting. Double doors allow easy access for storing large equipment like your lawnmower or wheelbarrow. This tool shed comes with one 90 in. shelf for organizing your small tools and chemical supplies. It is constructed of UV-protected, high-density polyethylene (HDPE) plastic and powder-coated steel reinforcements to prevent discoloration and cracking. Won't dent and rust like metal sheds. Won't splinter and fade like wooden sheds. Keep your valuable tool collection and yard equipment safe and dry with a Lifetime tool shed. Backed by a 10 yr. limited factory warranty in US and Canada. Not compatible with our shed expansion kits. Made in USA.

Approved for Dade Co., FL. NOA 09-0728.08 if reinforced with the Lifetime Extreme Weather Kit accessory.
Consult local building codes before assembly. This shed must be built on a flat level foundation of wood or concrete (not included). It is designed with a slight indentation in each corner of the floor so that you can drill through the flooring to secure it to the foundation. Anchoring hardware depends on the type of foundation you have and is therefore not included in the shed kit. Not including the installation of the foundation, you can expect assembly of the shed itself to take 2 adults up to 6 hours.
Features:

*Minimum High-Velocity Wind Rating in Florida is 15 psf. When paired with the Lifetime Wind Kit, Lifetime Sheds meet a wind rating of 20 psf (~118 mph).

Attractive Appearance and Design

Customizable Shelving and Storage System

Dade County Certification for Lifetime Sheds: https://bit.ly/2zwb010

Dual-Wall High-Density Polyethylene (HDPE) Construction

Heavy-Duty Steel Trusses Provide Additional Roof Strength

High-Pitched Roof Allows for Quick Drainage of Rain and Snow

Lifetime NOA Number: 17-0426.06

Lockable Steel-Reinforced Doors for Added Security

Low Maintenance Design

Slip-Resistant High-Density Polyethylene (HDPE) Floor Protects Against Oil, Solvents, and Stains

Sturdy Steel-Reinforced Construction

UV Protected to Prevent Weather Damage
Features & Benefits:
Attractive Exterior
UV-protected to help prevent fading and cracking. Stain-resistant exterior never needs painting.
High-Density Polyethylene (HDPE) Floor
Oil, stain and slip-resistant floor surface does not crack, chip, or peel.
High-Pitched Roof
Steep angle allows for quick drainage of rain and snow, and provides a spacious walk-around interior. Heavy-duty steel trusses increase strength.
Lockable Doors
Steel-reinforced doors provide an extra-large opening, sturdy structure, and exterior padlock loop.
Screened Vents
Provide airflow and keep pests out.
Shelving System
Steel Reinforced, customizable, and adds additional storage space.
Steel-Reinforced Walls
Designed with dual-wall high-density polyethylene (HDPE) panels with steel wall supports for added strength.
Specifications:
Nominal Dimensions: 8 ft. x 10 ft. (2,43 m x 3,04 m)
Square Feet: 71.3 ft2 (6,62 m2)
Cubic Feet: 491.3 ft3 (13,91 m3)
Door Handle: High-Impact Handles with Metal Latch
Door Hinges: Full-Length Galvanized Steel Hinge Pins
Door Locking: Exterior Padlock Loop with Two (2) Deadbolts on Interior of Left Door
Door Opening Dimensions: 58.3 in. W x 75.4 in. H (148 cm x 191,5 cm)
Door Structure: Steel-Reinforced Polyethylene
Eave Depth: 2 in. (5,08 cm)
Exterior Dimensions: 7 ft. 8 in. W x 9 ft. 8 in. D x 8 ft. H (2,336 x 2,946 x 2,438 cm)
Exterior Roof Dimensions: 8 ft. W x 10 ft. D (2,438 cm x 3,048 cm)
Fascia Height: 1.25 in. (3,1 cm)
Floor Structure
Slip-Resistant Dual-Wall Polyethylene
Footprint: 7 ft. 10 in. W x 9 ft. 10 in. D (2,38 m x 2,99 m)
Interior Dimensions: 7 ft. 6 in. W x 9 ft. 6 in. D x 5 ft. 10 in. - 7 ft. 10 in. H (2,286 x 2,895 x 1,178 - 2,387 cm)
Interior Headroom (truss to floor): 80 in. (2,032 m)
Materials of Construction: Powder-Coated Steel and High-Density Polyethylene
Roof Pitch: 6:12
Roof Structure: Dual-Wall Polyethylene Panels
Roof Support Trusses: Three (3) Steel A-Frame Trusses
Screened Vents: Two (2) Screened Vents
Shelves: One (1) 90 in. W x 9 in. D Shelf
Wall Structure: Steel-Reinforced Dual-Wall Polyethylene Panels
Windows: One (1) 16.5 in. W x 16.5 in. H Polycarbonate Window – Opens Half-Way
Snow Load Capacity: 23 lbs (10.4) psf
Wind Rating: 65 mph (104.6 km)
Packaged Dimensions: Box 1 is 95.31"L (242.087 cm) x 32'W (81.28 cm) x 11.78"H (29.921 cm), 223 lbs (101.151 kg), Box 2 is 95.31"L (242.087 cm) x 32"W (81.28 cm) x 11.78"H (29.921 cm), 251 lbs. (113.852 kg)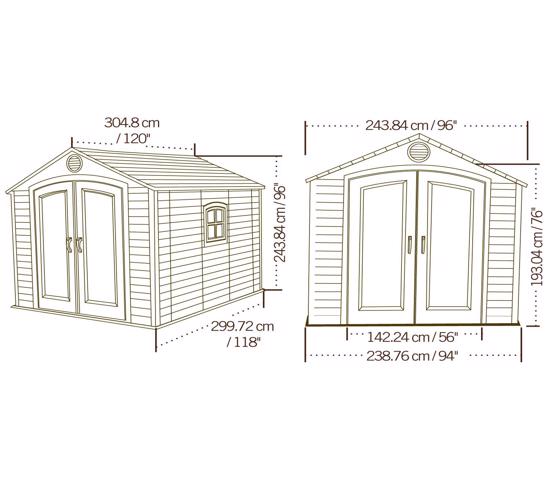 California Residents: Click Here for Proposition 65 Warning