Lifetime 8x10 Storage Shed Kit w/ Floor (60241)
Lifetime's 8-foot wide Outdoor Storage Sheds are the perfect solution to your storage needs. Built with durable, dual-wall high-density polyethylene, our sheds are steel-reinforced and low-maintenance. With various features including shatter proof windows, skylights, custom shelving, and much more, a Lifetime Shed is the perfect addition to your backyard.
The Lifetime 8 ft. x 10 ft. Outdoor Storage Shed features: slider latch, 8-pane doors, (1) ridge skylight, (1) shatter-proof window, (2) screened vents, (1) 90 in. x 9 in. shelf, (4) decorative corner trims, and a 10-year limited warranty. Floor and installation hardware included. Comes in (2) boxes.
Features:
Attractive Appearance and Design
Customizable Shelving and Storage System
Dual-Wall High-Density Polyethylene (HDPE) Construction
Heavy-Duty Steel Trusses Provide Additional Roof Strength
High-Pitched Roof Allows for Quick Drainage of Rain and Snow
Lockable Steel-Reinforced Doors for Added Security
Low Maintenance Design
Slip-Resistant High-Density Polyethylene (HDPE) Floor Protects Against Oil, Solvents, and Stains
Sturdy Steel-Reinforced Construction
UV Protected to Prevent Weather Damage
Features & Benefits:
Attractive Exterior - UV-protected to help prevent fading and cracking. Stain-resistant exterior never needs painting.
High-Density Polyethylene (HDPE) Floor - Oil, stain and slip-resistant floor surface does not crack, chip, or peel.
High-Pitched Roof - Steep angle allows for quick drainage of rain and snow, and provides a spacious walk-around interior. Heavy-duty steel trusses increase strength.
Lockable Doors - Steel-reinforced doors provide an extra-large opening, sturdy structure, and exterior padlock loop.
Screened Vents - Provide airflow and keep pests out.
Shelving System - Steel Reinforced, customizable, and adds additional storage space.
Steel-Reinforced Walls - Designed with dual-wall high-density polyethylene (HDPE) panels with steel wall supports for added strength.
Specifications:
Assembly: Secure-Fastened Assembly with High-Grade Metal Screws
Cubic Feet: 491.3 ft3
Door Handle: High-Impact Handles with Metal Latch
Door Hinges: Full-Length Galvanized Steel Hinge Pins
Door Locking: Exterior Padlock Loop with Two (2) Deadbolts on Interior of Left Door
Door Opening Dimensions: 4 ft. 8 in. W x 6 ft. 4 in. H
Door Structure: Steel-Reinforced Polyethylene
Eave Depth: 2 in.
Exterior Dimensions: 7 ft. 8 in. W x 9 ft. 8 in. D x 8 ft. H
Exterior Roof Dimensions: 8 ft. W x 10 ft. D
Fascia Height: 1.25 in.
Floor Structure: Slip-Resistant Dual-Wall Polyethylene
Footprint: 7 ft. 10 in. W x 9 ft. 10 in. D
Interior Dimensions: 7 ft. 6 in. W x 9 ft. 6 in. D x 5 ft. 10 in. - 7 ft. 10 in. H
Interior Headroom (truss to floor): 6 ft. 8 in.
Materials of Construction: Powder-Coated Steel and High-Density Polyethylene
Max Roof Load: 23 psf
Max Wind Resistance: 65 mph
Max Wind Resistance w/Wind Kit: 94 mph, 20 PSF
Nominal Dimensions: 8 ft. x 10 ft.
Roof Pitch: 6:12
Roof Structure: Dual-Wall Polyethylene Panels
Roof Support Trusses: Three (3) Steel A-Frame Trusses
Screened Vents: Two (2) Screened Vents
Shelves: Five (5) Shelves - Including Two (2) 9.5 in. radius Corner Shelves, Two (2) 30 in. W x 10 in. D Rear Shelves, and One (1) 90 in. W x 9 in. D Rear Shelf
Square Feet: 71.3 ft2
Tool Corral Compatible: Yes
Wall Structure: Steel-Reinforced Dual-Wall Polyethylene Panels
Windows: One (1) 16.5 in. W x 16.5 in. H Polycarbonate Window – Opens Half-Way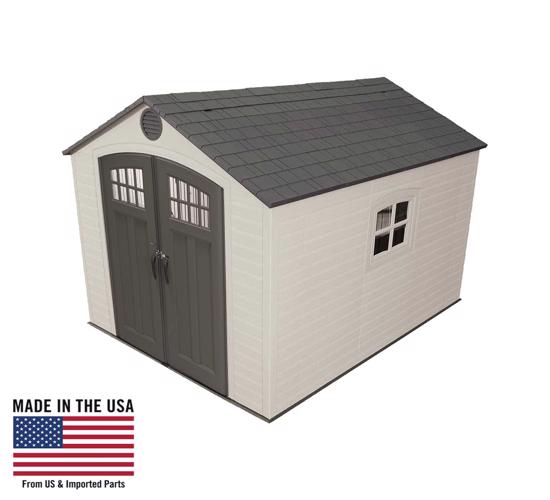 California Residents: Click Here for Proposition 65 Warning