Safavieh Bradbury 4pc Outdoor Living Set - Ash Grey/Beige (PAT6710B)
An English garden furniture classic inspired the Bradbury 4-piece outdoor living set with crosshatch seat back detail.  Sustainable acacia wood in ash grey is used for a coffee table and seating with seat and back cushions of beige all-weather fabric.
Color: Ash Grey / Beige
Wood Color: Ash Grey
Finish Surface Treatment: Stain
Contents: Wood
Wood Content: Acacia
Upholstery Content: Polyester
Fill Material: Ca Foam
Metal Color: Silver
Metal Type: Galvanized Steel
Weight: 123 lbs.
Set Dimensions (w/d/h)    
Bench: 48.4" X 24.8" X 31.9"
Chair: 25.6" X 24.8" X 31.9"
Table: 39.4" X 23.6" X 14.2"
Item Weight
CHAIRS: 41
BENCH: 29.8
TABLE: 15.9
Seat Dimensions (w/d/h)    
Chair: 22" X 20.3" X 13"
Bench: 44.9" X 20.3" X 13"
Backrest Height: 19.29
Armrest Height: 24.21
Other Dimensions    
BENCH CUSHION: 24.8 x 20.5 x 1.6;
CHAIR CUSHION: 19 x 16.9 x 1.6
Weight Capacity    
Chair: 250 Lbs.
Bench: 500 Lbs.
Table: 100 Lbs.
Leg Height: 13.16
Assembly Required: Yes
Estimated Assembly Time (mins): 45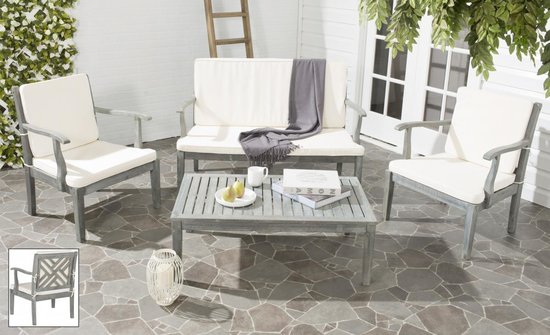 Care Instructions
Store outdoor furniture indoors or cover well when not in use. Remove wooden furniture from standing water. Dust regularly with small brush or vacuum. Spills should be taken care of immediately before they harden or stain with a slightly dampened sponge. Do not use bleach solutions.
Since 1914 Safavieh has been on the cutting edge of modern furniture designs. In 1978 they began operations in the United States. They continue rolling out award winning collections year after year and we are happy to partner with them to bring you the absolute best in quality furniture selections.