Low Prices & Free Shipping! Since 2006
Swisher Commercial Pro ATV Spreader (19920)
Spread grass seed, fertilizer, salt or sand consistently using this ATV Spreader from Swisher! For more details, please contact us at 888-609-5487!
FREE Fast Shipping!

Swisher Commercial Pro ATV Spreader (19920)
The Swisher Commercial Pro ATV Spreader allows you to spread grass seed, fertilizer, salt and sand quickly, easily, and consistently. The universal fit lets it mount easily onto any ATV. Control the flow rate with the operator accessible adjustable feed gate. The spreading range can be adjusted from 4' to 16' wide depending on material, and a unique spinner disc and vented cap design provide consistent flow and even material distribution. New frame mounted on & off switch allows you to control the spreader without getting off your ATV. All control plates are zinc plated for better corrosion protection. This spreader is made with a heavy-duty ball-bearing motor, a sealed lid to keep out unwanted moisture, and an opaque 15 gallon and 150 lb capacity poly tank hopper. 
FEATURES:
Spread grass seed, fertilizer, salt, or sand consistently
Adjustable spread width 4' to 16' diameter
Adjustable feed gate
Frame mounted on and off switch
Heavy duty double ball bearing motor
Universal fit
Opaque 15 gallon poly tank
150 lb capacity
Zinc plated control panels
SPECIFICATIONS: 

Dimensions: 27 x 26.8 x 28.2 inches
Item Weight: 41 lbs
Shipping Weight: 47.4 lbs
Color/Finish: Opaque
Material: Plastic
Warranty: 1 Year Limited Warranty
Great Spreader & Fast Delivery.

5
First I would like to say I was hesitant about ordering from Kit Superstore since this was my first time but the reviews were good and they checked out as legitimate. About the ordering...It was quick and easy as well as confirmed the order and sent me status updates. Best of all I couldn't believe how fast it came. Kit Superstore processed the order immediately and the manufacturer sent it right out. Total time from order to arrival was only 3-4 days. Next about the product. I needed a spreader for my John Deere 1025 tractor and 1 acre of lawn. 3 pt spreaders are too expensive and overkill for my use so did my research and decide on the Swisher (knowing I would modify it for the rear of my tractor). Assembly was pretty much straight forward, just take your time and go slow. My wife always helps by reading the instructions as I assemble. I found no 'holes' in the instructions and all parts were included. I did a pre check on the motor operation and drop mechanism and all checked out fine. Next was to connect it to my tractor. I was able to make an adapter to bolt on the spreader. Best part about this is Swisher includes several U-bolts and pre-cut plates for connecting to an ATV in which I was able to use. With the spreader securely mounted to the adapter I created, I was now able to utilize my 3 pt hitch with a 2" receiver hitch. As others did, I extended the wiring and moved the on/off switch up to my tractor. Again Swisher included full electrical connections so I just added the extension cord and accessory adapter. Last was the extension of the fertilizer drop control. Since there was a hole where I removed the on/off switch, I bolted a 1/2" pvc pipe about 6' long so I can control it easily on my left side. Operation: I tested it with some fine sand and was worried I wouldn't get a wide spread. After running fertilizer through it though the spread was about 10 feet as advertised and most importantly even. Happy with the quality and operation!
Related Products
Swisher Commercial Pro UTV Truck Spreader (22340)
Spread grass seed, fertilizer, salt or sand consistently using this UTV Truck Spreader from Swisher! For more details, please contact us at 888-609-5487! FREE Fast Shipping!
Price
$2,339.95
Regular price
$2,399.95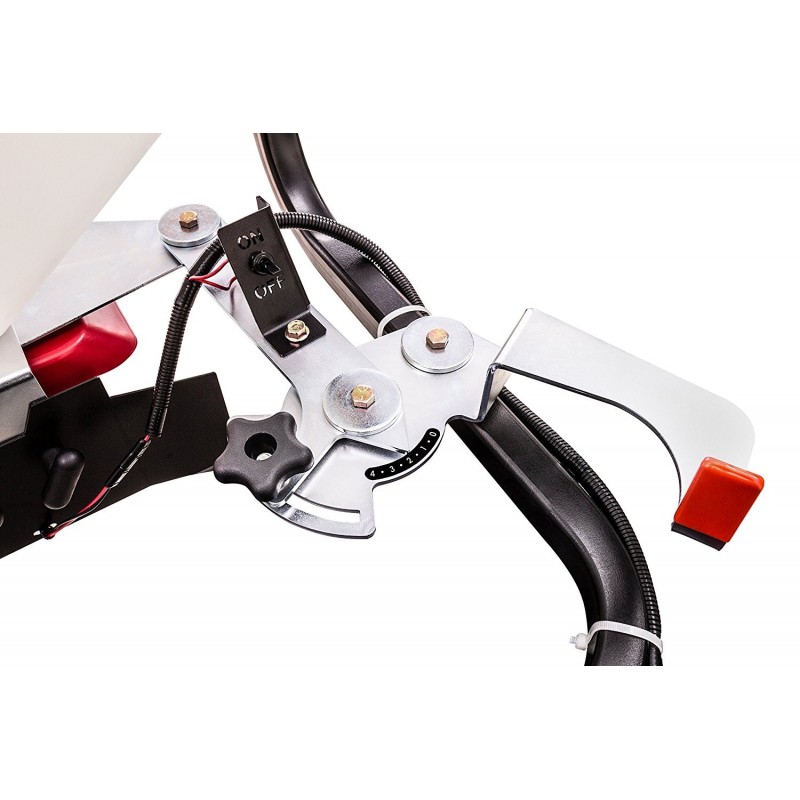 Swisher Commercial Pro ATV Spreader (19920)