Best Barns Roanoke 16x20 Wood Storage Shed Kit (roanoke1620)
The perfect DIY all wood barn kit. Not a pole building, built like your house with wall studs 16" on center. The Roanoke can easily be used for a barn, workshop or utilize the building for storage.
Our 16' wide Roanoke provides two floors of unobstructed storage. High side wall on lower level with clear span full loft for bonus room above. Customize to your needs. Because you are assembling the Roanoke you have the ability to choose the number of windows, type and quantity of doors allowing you to place them in the locations of your choosing. Our Roanoke barn offers up to 1,024 sq. ft. of space. Choose the size that is appropriate for you particular needs.
FEATURES
Sturdy-Built Truss System:
30 lbs snow load / 90 mph wind load
2x6 trusses
Clear Span Loft:
Full second floor loft with 7'-1" headroom
3/4" Structurwood decking and 2x8 floor joists
Pre-primed Siding:
Siding - 3/8" L. P. (Louisiana Pacific) Smartside Ext. Paneling w/50 year limited warranty
All required hardware included: door hinges, latch, hurricane straps for trusses, nails, glue for gussets and detailed instruction manual included. Paint, shingles and roof edge are provided by owner / not included.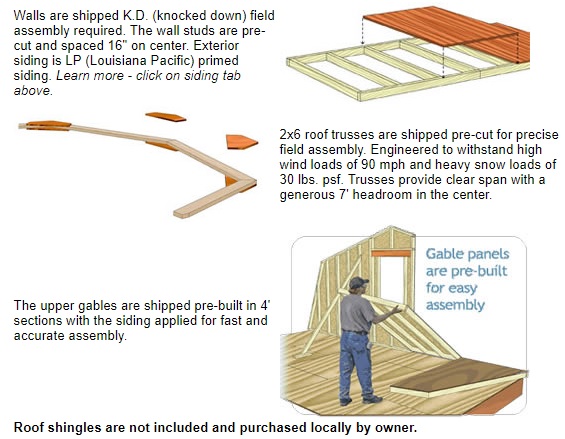 SIDING:
LOFT:

Flooring Information: The floor and foundation are not included and provided by the customer. This is a very large building and the type of foundation may be dictated by your local building codes. Both wood and concrete slab constructions are appropriate for this building size. Consider the intended use of your building when deciding on the best foundation to meet your needs. 
ELEVATION:
OPTIONAL WINDOWS :
OPTIONAL WALK-IN DOOR:
Barn Door Included: A large 8' wide x 7' high barn door provides easy access and a traditional barn style look.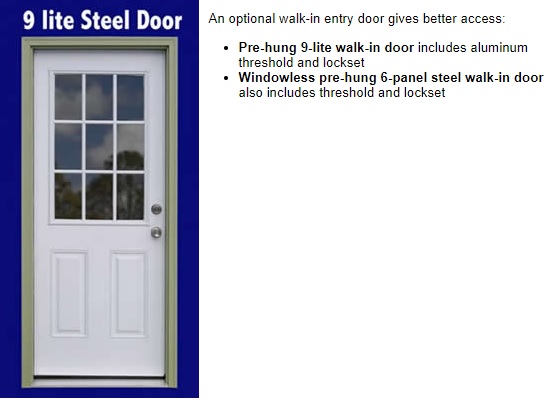 OPTIONAL STAIRS: