Low Prices & Free Shipping! Since 2006
Lifetime Dual Composter Kit (60072)
Cut composting time in half with the Lifetime Dual Composter. This dual composter features two 50 gallon tumblers which allow for continuous composting. Now you can let the batch of compost in the first tumbler process while you add fresh ingredients to the batch in your second tumbler.
FREE Fast Shipping!

Lifetime Dual Composter Kit (60072)
Take advantage of a more efficient method of composting with the Lifetime Dual Composter. The dual tumbler design means you don't have to wait for your first batch of compost to finish cooking before you start on another one. This can eliminate weeks of waiting! Each 50 gallon tumbler is constructed of black double-walled polyethylene plastic to absorb heat and an internal aeration bar to create the necessary airflow needed to break down the compost ingredients. Four small vents are designed into each corner of the tumbler to provide additional airflow. The non-cylindrical design of the tumblers allows for more effective mixing of contents when rotated. The tumblers are set side-by-side on a sturdy steel base and can be easily turned on its axis for compost rotation. Use the red processing indicator clip to attach to the handle of the tumbler so you can keep track of which batch is cooking and which batch you can add fresh ingredients to. With the enclosed tumbler design you can speed up compost processing time and avoid the smelly, unsightly mess of an open compost heap. Save money on expensive fertilizers by creating your own rich, fresh compost for your vegetable and flower gardens. This product does not contain BPA.
For more information on composting including what kinds of materials should and should not be composted, read our Garden Composting article as well as our How To Compost instructions.
For more information about assembly, read the Owner's Manual Sample.
Use:

Load with Lawn and Garden Trimmings and Organic Waste

Rotates Easily, Saving the Time and Effort of Turning a Compost Heap

Microorganisms Break Down Moist, Well-Aerated Organic Materials

End Result is a Useful and Inexpensive Organic Soil Conditioner and Fertilizer
Features:

5-Year Limited Warranty

Balanced Lightweight Construction

Galvanized Steel Base

Heavy-Duty UV-Protected HDPE Panels

Innovative Dual 50-Gallon (189,3 L) Tumbler Capacity

Powder-Coated Steel Frame
Specifications:
Cubic Foot Capacity: 6.7 ft3 (0,18 m3)
Dimensions: 56.5 in. W x 31.25 in. L x 43.5 in. H (143,5 cm x 79,3 cm x 110,4 cm)
Materials of Construction: High-Density Polyethylene (HDPE)
Product Weight: 71.6 lb. (32,5 kg)
Tumbler Capacity: Two (2) 50-Gallon Tumblers (189,2 L)
Tumbler Design: Dual
California Residents:
Click Here
for Proposition 65 Warning
Related Products
Leisure Season Compost Bin (CB2730)
Easy to use compost bin with natural aeration system, cover and pullout door. Easy to use compost bin with built-in aeration system. Comes with cover. Pullout door provides easy access.FREE Fast Shipping! 
Price
$139.95
Regular price
$199.95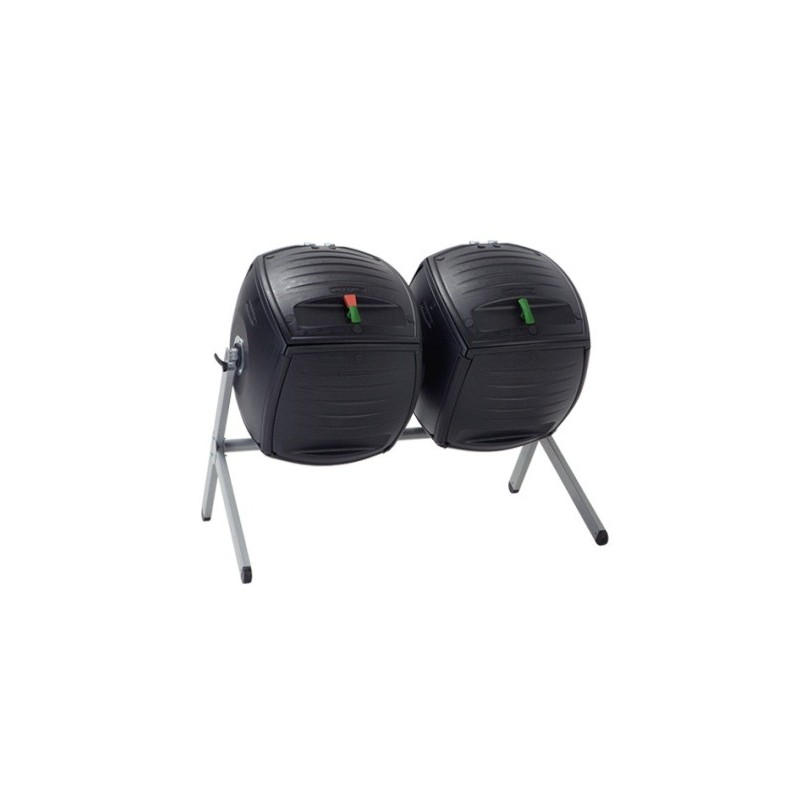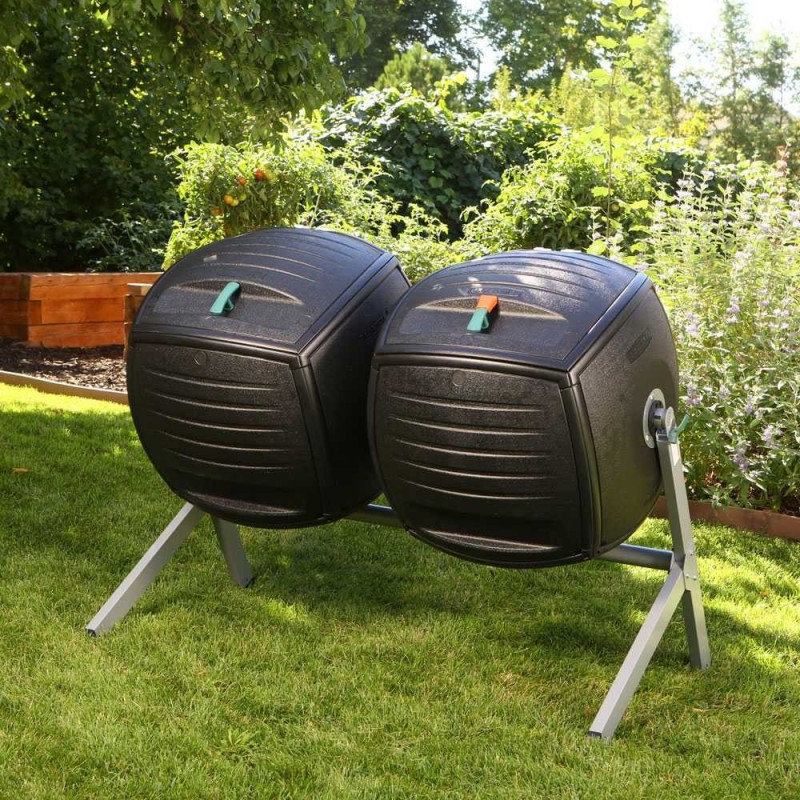 Lifetime Dual Composter Kit (60072)