Free Shipping! Everything Home Since 2006
Yardistry 11x13 Meridian Cedar Gazebo Kit (YM11912COM)
This 11x13 Meridian Gazebo from Yardistry is a wonderfully constructed and multi-functional gazebo that will make your backyard shine among the rest! It is a ready-to-assemble kit and all hardware and components are included! Please see the details below or contact us at 888-609-5487!
FREE Fast Shipping!



Yardistry 11x13 Meridian Cedar Wood Gazebo Kit (YM11912COM)
Nothing can enhance the beauty of an outdoor setting by adding an outdoor structure to your backyard. A gazebo is a perfect addition to it. Adding this structure to your garden can transform your backyard space into something extraordinary. The gazebo is a very attractive outdoor structure that can serve many purposes. This is the best space that can provide you a comfortable place and protects you from the sun. Expand your outdoor living space now with our Yardistry 11x13 Meridian Gazebo! This gazebo is made with 100% Cedar lumber and finished with a natural cedar stain, the 11x13 Meridian Gazebo will bring warmth and character to any space. The stunning graphite-colored aluminum roof helps create the perfect setting for all your outdoor entertaining, thanks to its posts and heavy corner gussets. Its striking design is also strong and durable making the gazebo last for years. All wood comes pre-cut, pre-drilled, and pre-stained, and the kit includes all necessary hardware. It is backed up by a 5-year limited warranty. Its multi-functional purpose makes it perfect for any outdoor space.

Features:
Built using 100% Cedar Lumber
Stunning Graphite-colored aluminum roof
Finished in a beautiful natural cedar stain
5 ½" x 5 ½" Posts with classic plinths
Heavily curved corner gussets
Specifications:
Base Dimensions: 9' 2" L x 9' 2" W
Overall Dimensions: 9' 11" L x 9' 11" W x 9' 4" H
Number of Boxes: 3
Box 1: 93 7⁄8" L x 43" W x 4 3⁄8" H = *170 LBS
Box 2: 93 7⁄8" L x 21 7⁄8" W x 8 1⁄2" H = *200 LBS
Box 3: 93 7⁄8" L x 20 3⁄4" W x 8 1⁄2" H = *185 LBS
Roof Dimensions: 13' L x 11' W x 9' 8 ½" H
Base Dimensions (outside to outside of posts): 11' 8 ½"L x 9' 8 ½"
Warranty:
Yardistry warrants that this product is free from defects in material and workmanship for a period of one (1) year from the original date of purchase. In addition, for any product with lumber, all lumber is warranted for five (5) years against rot and decay. This warranty applied to the original owner and registrant and is non-transferable.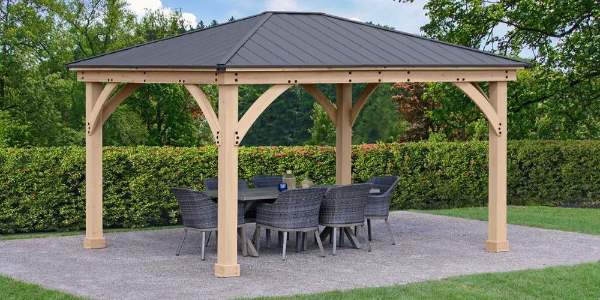 Yardistry Madison Outdoor Bar Stools (YM11790)
Looking for the best accessory that you can add to your gazebo? Our Madison Outdoor Bar Stools from Yardistry is the one for you! Made from 100% premium cedar lumber, it will be a perfect match to your existing Madison Pergola or gazebo. For more details, please see below or contact us at 888-609-5487! FREE Shipping!  On Sale Now!
Price
$229.00
Regular price
$299.95
Related Products

Yardistry 11x13 Meridian Cedar Gazebo Kit (YM11912COM)