Safavieh Telford Rattan Outdoor Sette and Storage Ottoman with Red Accent Pillows - Brown/Tan/Red (PAT2013A)
The ultimate dynamic duo, this state-of-the-art outdoor set blends style and substance. Designed with grey rattan, this plush outdoor settee extends to include a clever built-in storage ottoman. Red accent pillows add a bold pop of color to any outdoor room.
Color: Brown / Tan / Red
Wood Color: Brown
Finish and Surface Treatments: Powder Coating
Contents: Rattan
Wood Content: Rattan
Upholstery Content: Silk Wadding
Fill Material: Foam
Metal Color: Black
Metal Type: Galvanized Hardware
Weight: 62.6 lbs.
Seat Dimensions (w/d/h): 22.9" X 29.5" X 24.8"
Ottoman Dimensions (w/d/h): 19.7" X 28.7" X 11.8"
Weight Capacity
Seat - 200 Lbs.
Ottoman - 30 Lbs.
Assembly Required: Yes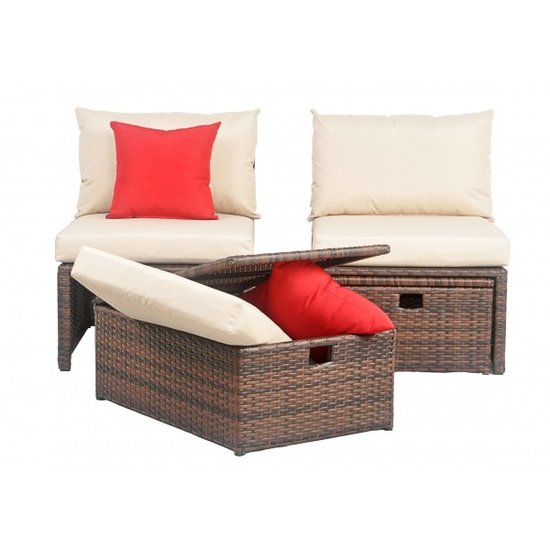 Care and Cleaning
Store outdoor furniture indoors or cover well when not in use. Remove wooden furniture from standing water. Dust regularly with small brush or vacuum. Spills should be taken care of immediately before they harden or stain with a slightly dampened sponge. Do not use bleach solutions.
Since 1914 Safavieh has been on the cutting edge of modern furniture designs. In 1978 they began operations in the United States. They continue rolling out award winning collectons year after year and we are happy to partner with them to bring you the absolute best in quality furniture selections.