Gared Corner Wall Pad with Bonded Polyurethane Foam, Standard Size, 6" x 6' x 6" x 2" (4320-STD)
Gared Corner Wall Pad is a must behind basketball backstops, in wrestling rooms, or workout areas. Our specifications meet and/or exceed the industry safety standards. Available in standard size 2'x 6'x 2" and custom sizes to fit most building requirements. Constructed of 7/16" OSB backerboard, 14oz. mildew/abrasion resistant "Class A" vinyl, with leather grain finish. Comes with nail lip for standard installation.
Features:
Bonded Polyurethane Foam
Additional easy mount options need to be ordered separately: 4196 ("Z" Clip); 4195 ("J" Channal); 4199 (Velcro® Attachment)
Standard Size: 6" x 6' x 6" x 2"
1 Year Limited Warranty
Product Weight: 20 LBS,
Shipping Method: Truck
Freight Class : 85
WALL PAD COLOR OPTIONS: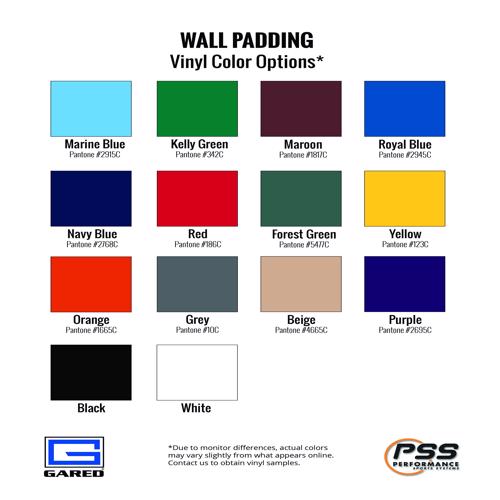 Why Gared?
Providing Sports Equipment Solutions Worldwide
Did you know that GARED products can be found in many countries across the globe? Incorporated in 1922, GARED is the sporting goods industry leader in innovative product design and precision equipment manufacturing. Our international distributors work hard to stress the importance of sports and play by providing safe, durable equipment to schools, universities, recreation facilities, community centers, parks, and churches all over the world.
In fact, GARED maintains a strong partnership with the International Basketball Federation (FIBA) to ensure that our products meet strict standards for international play. Our ceiling-hung and wall-mounted basketball backstops and competition portable basketball systems fulfill the Competition Level 2 and 3 standards specified in the latest edition of their Equipment & Venue Approval Program, qualifying GARED as an Official Technical Partner