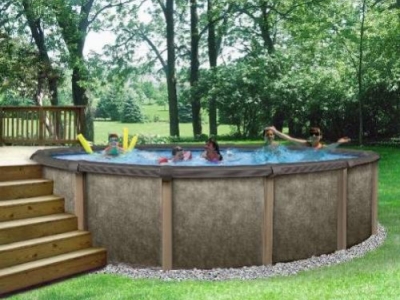 Every vacation deserves to be well-spent with the family and friends that is why a lot of people do take their vacay trip up a notch once the summer arrives. With the countless staycation spots in local or foreign areas, the season is never a boring time. However, there are also families that do prefer to spend their quality fun time in the comforts of their own homes not only because it is more comfortable, but sometimes they can never refute the fact that the lack of budget severely affects their decisions when it comes in preparing outdoor activities. The effort, as well as the things that are needed to be bought and brought, takes a lot of time and money to put together.
To savor a meaningful time with the family during the summer season, adding an Above-Ground Pool would be a smart move. These pools are very affordable yet very durable so this would be a very wise choice for those who still want to relish happy moments without the fear of going over the budget. This will also enable families to have frequent bondings times without the need of going out of their homes. But of all the pools out there, why Above-Ground Pools? And why should it be from BlueWave? Here are some of the reasons why:
Inexpensiveness and Accessibility: Money is always an issue but with a BlueWave Above-Ground Pool, the return of an investment will surely be worth it. It will provide any homeowner easy access to a fun and exciting place without any need to go elsewhere. Since it is located in the home's backyard, whatever time that the family feels like to go out and have fun with each other's company, they can just simply prep their pool and ready themselves to cool down during the hot season. They can also add some flair during their pool time by throwing in some inflatable toys for the kids as well as some grilled goodies and refreshing drinks. Definitely a sublime time for everyone!
Durability and Safety: Of course, spending money on something worth the payment would make any customers happy. BlueWave Above-Ground Pool Kits are not only affordable but are also made from very durable and high-quality materials. The walls is consisting of solid steel construction and it also features pool accessories that are both useful and handy. With its name itself, these pools are built above the ground so this will ensure a safer environment for the entire family but most especially for the kids. They can wander outside the house when left unattended and can lead to serious unfortuitous events. Accidents are prone to happen every day, everywhere so it is best to provide the safest equipment or appliance options in the homes.
Installation and Easy Maintenance: Nobody wants to spend too much time building or assembling something. So for a pool with a quick and easy assembly, BlueWave Above-Ground Pool Kits will fit the puzzle. No need for a number of dubious steps! Simply follow the instruction manual and the pool will be ready in a few hours. Above-Ground Pools can easily be cleaned as well because their parts are accessible compared to In-Ground Pools.
Mobility and Property Setting Enhancer: One of the best things about the BlueWave Above-Ground Pool Kits is that they can be transferred easily compared to In-Ground Pools. If the homeowners are planning to settle in a new home, they can just disassemble the pool and bring it with them to their new location. Once they arrive, they can install it again without a hitch. Having one of these pools will also give any backyard a major make-over, turning the once boring space into a summer getaway spot only for the family!
With these benefits and more, choosing the BlueWave Above-Ground Pool Kits will surely be a very good move. The newest line of pools is now here at KitSuperStore with the Lowest Prices + FREE Shipping on all orders! For more details, questions, or order placements that need assistance dial 888-609-5487 now!