Outdoor activities during the winter season can be very limited due to the change of weather which affects the surroundings. Mountains, hills, and many other elevated grounds will be filled with snow and some bodies of water will freeze due to the cold temperature. Some people may not be a fan of snowy days, but these wonderful sceneries can be the host to a lot of fun-filled winter activities that individuals will surely love and enjoy. But for a more age-friendly activity as well as a safer way to indulge in this winter wonderland, trying Snow Sledding can be a game-changer during this season.
Snow Sledding is not only a laugh-jerker and happiness inducer activity, but it also affects the body in a very good way. People of all ages will be able to tone and strengthen their lower bodies by simply climbing uphill. This simple yet effective pastime can also assist in improving a person's flexibility and balance. Feeling the chilly air and seeing the beautiful landscapes can also be an effective stress reliever. See? Snow Sledding is not just enjoyable, but is also beneficial to the human mind and body. To make the entire family more delighted to play and have a breather during this ice-cold weather, complete the perfect winter trip and make use of the Lifetime 2-Pack 48 in. Snow Sled in Aqua (91141) or the Lifetime 2-Pack 48 in. Snow Sled in Red (91181) and order it from KitSuperStore now!
KitSuperStore proudly presents these newest listings we have in store for every home to have this winter! With years of experience, Lifetime made sure that these snow sled kits are not only safe for use but also durable. Both sleds are made with a UV-Protected High-Density Polyethylene body that will not fade, crack, or split and it even has a 5-year limited warranty. The rigid form will not bend or fold and the EVA seat pad was added for comfort. The rider can hold on tightly to the molded handle wraps or secure tug rope during the descend and the sleek design makes it easy for an adult or an adult with a kid to glide through the snow without any problems. Made to last for years, these snow sleds from Lifetime are the perfect travel buddy whenever the winter season arrives. The smiles and the entertainment it can provide will add more spark and flavor during the holiday season. Note: ​Made in the USA from the US and Imported Parts!
KitSuperStore offers FREE Shipping on all orders and can be partnered with the SAVE5NOW Coupon to avail of a $5.00 discount. We offer factory direct pricing which is very competitive and in most cases the lowest price available online. For more information, feel free to contact our Customer Service Hotline which is 888-609-5487. Happy Holidays!
WARNING: This product can expose you to chemicals, including nickel, which is known to the State of California to cause cancer and birth defects, or other reproductive harm. For more information go to www.P65Warnings.ca.gov.
LOOK COOL WHILE SLEDDING WITH THE AQUA-COLORED SNOW SLED!
MAKE YOUR DESCENT LOOK FLAMING HOT USING THE RED SNOW SLED!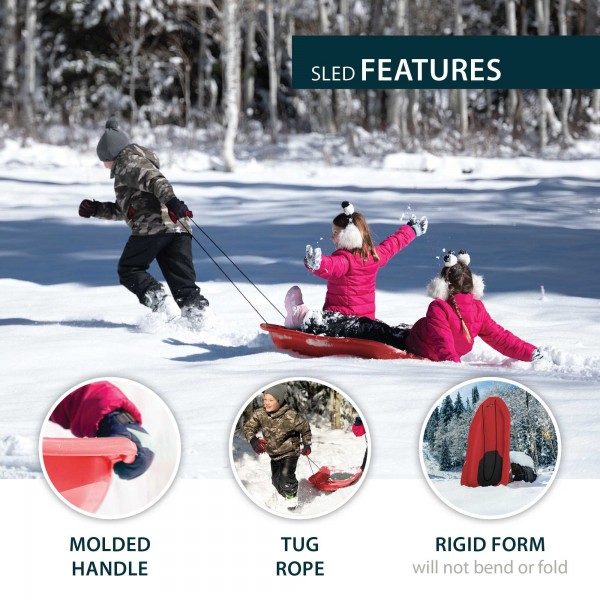 HUMANS ARE NOT THE ONLY ONES ENJOYING SNOW SLEDDING! DOGS TOO!