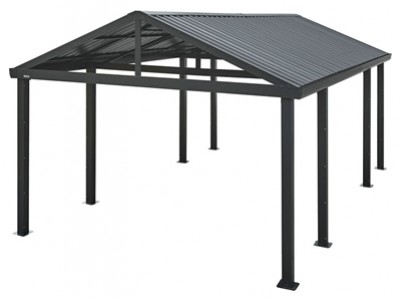 Keeping ourselves inside of our homes will surely give us the comfort and safety we need during these hard times. We may never be able to spend most of our time outdoors due to the pandemic but if you do have a car of your own, it's the least of your worries. Our vehicles are really important these days and we can never take them for granted. We also need to do our part to ensure that they will be maintained in their best condition. If you're thinking to add a carport kit of your very own, you're in the right place because we have the best one just for you! Introducing the Sojag 12x20 Samara Metal Carport Kit - Dark Gray (500-9165838)!

Carports are installed to help shield your vehicle from not just the rain, snow but on harmful sun rays, as well. Carports aren't just for cars too, its storage capacity can store your boats, RV's trailer, motorcycle. This can also withstand corrosion and can stay for years since it is made from sturdy rust-proof aluminum frame and galvanized steel. Its wide area between its columns can provide easy and comfortable access for your car, boat, and other vehicles. It can also be used as a versatile shade structure for any picnic or backyard area.

The Sojag 12x20 Samara Metal Carport Kit features a contemporary design, a galvanized steel roof with a sturdy rust-proof aluminum frame. This is a great solution for any climate and vehicle and it has 4 roof hooks for extra storage and/or lighting. The Samara has wonderfully designed eaves to enhance the shelter and help drain water and snow with pre-drilled for anchoring for ease in installing. This carport kit weighs 634 lbs and its frame color is an elegant shade of Dark Gray. The roofing is made out of galvanized steel tinted in dark gray as well as its roof trim color. It has a rectangular building shape with nominal dimensions of 12'W x 20'L x 10'H. When the carport kit is assembled, the exterior dimensions would be 149.37"W x 243.7"D x 116.14"H.

This carport is to be processed for shipment within 7-10 business days with approximately 1-week delivery (but not guaranteed.) This will ship via LTL Motor Freight with Curbside Tailgate Delivery. This carport is now on sale until August 30th for only $2,399.95 so make sure to grab yours while stock is available.

KitSuperStore will definitely bring you what you paid for! FREE Shipping on all orders and you can get additional discounts by using the coupon SAVE5NOW! For more details, you can contact us at 888-609-5487!
HAVE YOUR OWN SAMARA CARPORT NOW!