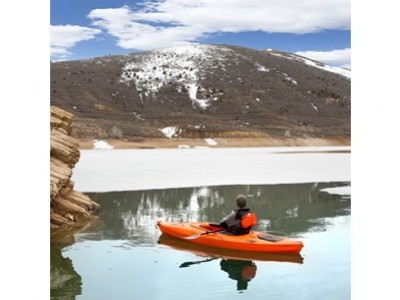 Planning an outdoor trip this winter is the most exciting thing to do during this season! We may not be able to visit the beaches we used to swoon over during summer but the fun does not stop there! The Winter season brings out the most promising and intense outdoor activities that will surely be enjoyed by enthusiasts who love the thrill of nature. Most kayakers hang their boats up for the winter, but that doesn't have to be the case. Winter is often the best paddling season: no crowds, lots of water in many regions of the country, and a rarified rugged environment. If you and your family are on to kayaking during winter, KitSuperStore.com is happy to offer you our Sit-Inside Kayaks that are now on sale!
The first on our list is the Lifetime Lancer 10 ft. Sit-In Kayak w/ Paddle - Orange (90817). This kayak provides the perfect combination of comfort, stability, and performance in an exceptionally versatile package. It has an adjustable seat back and seat pad for comfort with built-in foam blocks for additional flotation. It was manufactured with a durable high-density polyethylene (HDPE) construction and with its design and size it can easily be handled on and off the water. This kayak has a 5-year limited warranty for only $419.95!
Next, we have the Lifetime Cruze 10 ft Sit-In Kayak - Volcano Fusion (90961). Kayaking is a relaxing and exciting sport and the Lifetime Cruze is the perfect option to get you out on the water. The Lifetime Cruze 100 is a recreational sit-inside kayak optimized for slow-moving rivers, lakes, and calm ocean bays. Same with the Lancer Kayak, this has an adjustable quick-release seat back and seat pad for comfort and is constructed of UV-protected high-density polyethylene. This kayak has deep hull channels for tracking performance and chine rails for stability. The kayak's front and rear toggle handles will help you for easy transport as well and the multiple footrest positions and large open cockpit makes this kayak a comfortable fit for many different people. You can purchase this for only $429.95! (Note: Paddle not included)
Last but definitely not least, we also carry the Lifetime 10 ft. Emotion Guster Sit-In Kayak - Orange (90490)! This kayak belongs to the newest line of Kayaks from Lifetime and this has the most promising combination of stability and performance that makes it a kayak worthy to be your comrade in your water adventures! Both teens and adults will certainly savor every moment with confidence and assurance on every water condition that they will venture to; from large lakes and bays to slow-moving rivers and creeks because the ST Performance Hull design provides the speed, tracking, and maneuverability that only high-quality kayaks have! This model is equipped with our Ledge Lock Paddle Keeper and other great features for comfort and convenience for all ages. This kayak is for $459.95!
Paddling in winter can be cold, but it can also be spectacular! Let KitSuperStore.com be part of your kayak winter adventures and enjoy FREE Shipping on all orders!
Purchase Your Winter Kayaks Here Now!